The Daphine Collective Vol. I
monikh dale
For the first in the series, Daphine is honoured to partner with Monikh Dale.
The Daphine Collective is a series of design collaborations in partnership with women who inspire and uplift us. Women who have been integral to our journey, who we have been able to deepen our connection with through collaborative collections. Individual stories, and independent collections, that come together under a shared ethos.
"When I look at my own hands, I see my grandmother's too. She loved to wear her gold, they were part of her - Monikh"
Monikh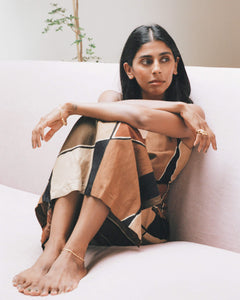 Family has always been one of the core values for Daphine, and this shared love of familial history was one of the first things that bonded us and inspired the collection, with each piece named after Monikh's family. One piece, a beaded bangle called 'Charan' is directly based on one worn by Monikh's Grandfather. "The beaded bangle is based on my Grandads, his was silver, absolutely huge - one of the most vivid memories I have of him is looking at how immense his hands were, and the stunning peacock he had tattooed across them".