Abisola Omole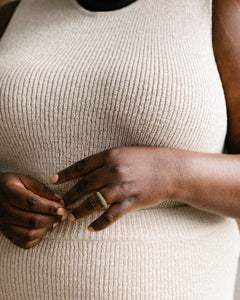 Abisola Omole is a tastemaker, CEO & Creative Director of arva, a contemporary lifestyle brand. Abisola is long time member of the extended Daphine family. We share with Abi a taste for simple design and soft lines that can easily adapt into your everyday life. She has designed a very balanced collection - in 100% RJC certified recycled materials, handcrafted in Jaipur, India - four pieces that mirror what you want from your jewellery box, and for the first time, available in extended-sizing.
A four-piece collection named after Abi's family members, 'all of whom played a part in me becoming who I am today, so I wanted to name them after pieces that reminded me the most of them.'
Sade, a delicate green pavé ring and Ayoka, matching statement earrings to elevate any outfit. Yinka,  a sculptural golden bangle, and Yemi a pair of interlocked golden earrings for everyday.